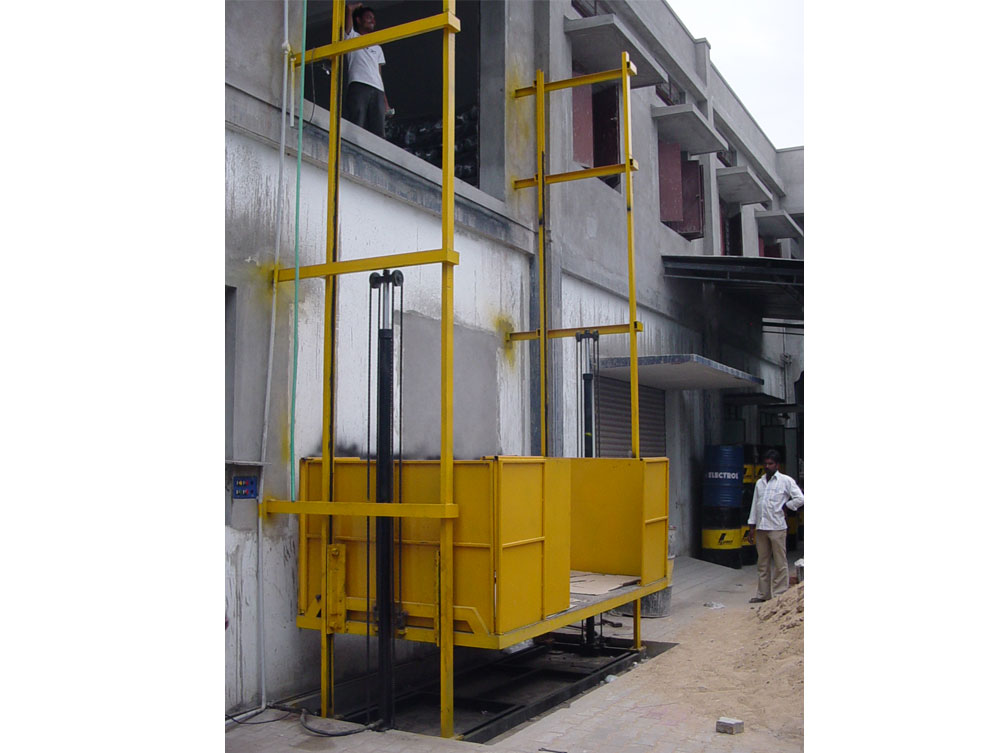 ×
Loads of bigger volumes to transferred vertically?? Avcon twin mast hydraulic goods lift becomes a unwavering solution to fulfil. Twin mast design to support platform from two sides avoids cantilever of load at unsupported end.
Salient Features
• Customised platform size according to application study and space availability.
• Twin mast supported platform for superior stability in bigger volume lifting applications.
• Loads up to 2000 kg can be handled.
• Lift Heights up to 8 meters models are available.
• Multiple point control pendants at landing positions for ease of operation.
• Flameproof models available for flameproof work area.
• SS 304 MOC variants for pharmaceutical applications.
• Wire rope supports for extra stability for platform.
• Fail safe hose burst technology to avoid free fall in abnormal hose conditions
• Pressure relief valve system to avoid overloading of equipment.
• Emergency lowering feature in power failure condition.

Standard Specifications
| Model | | AVEHGL-TM |
| --- | --- | --- |
| Capacity | | Up to 2000 |
| Power Source | | AC |
| Lifting / Lowering | | Motorised |
| Platform Size | | Customized As per application |
| Railings | | As per Load entry/ Exit |
| Usable Sides | No | 2 |
| No of Mast | | 2 Identical mast on opposite sides |
| Power Pack | | At 3 M radius can be placed as per suitability |
Type of Applications
• Textile Industry e
• SME units in floor to floor transfer applications
• Paints and Chemical Industry
• Manufacturing Industry
• Food Processing
• Paper Industry
• Pharmaceutical Industry