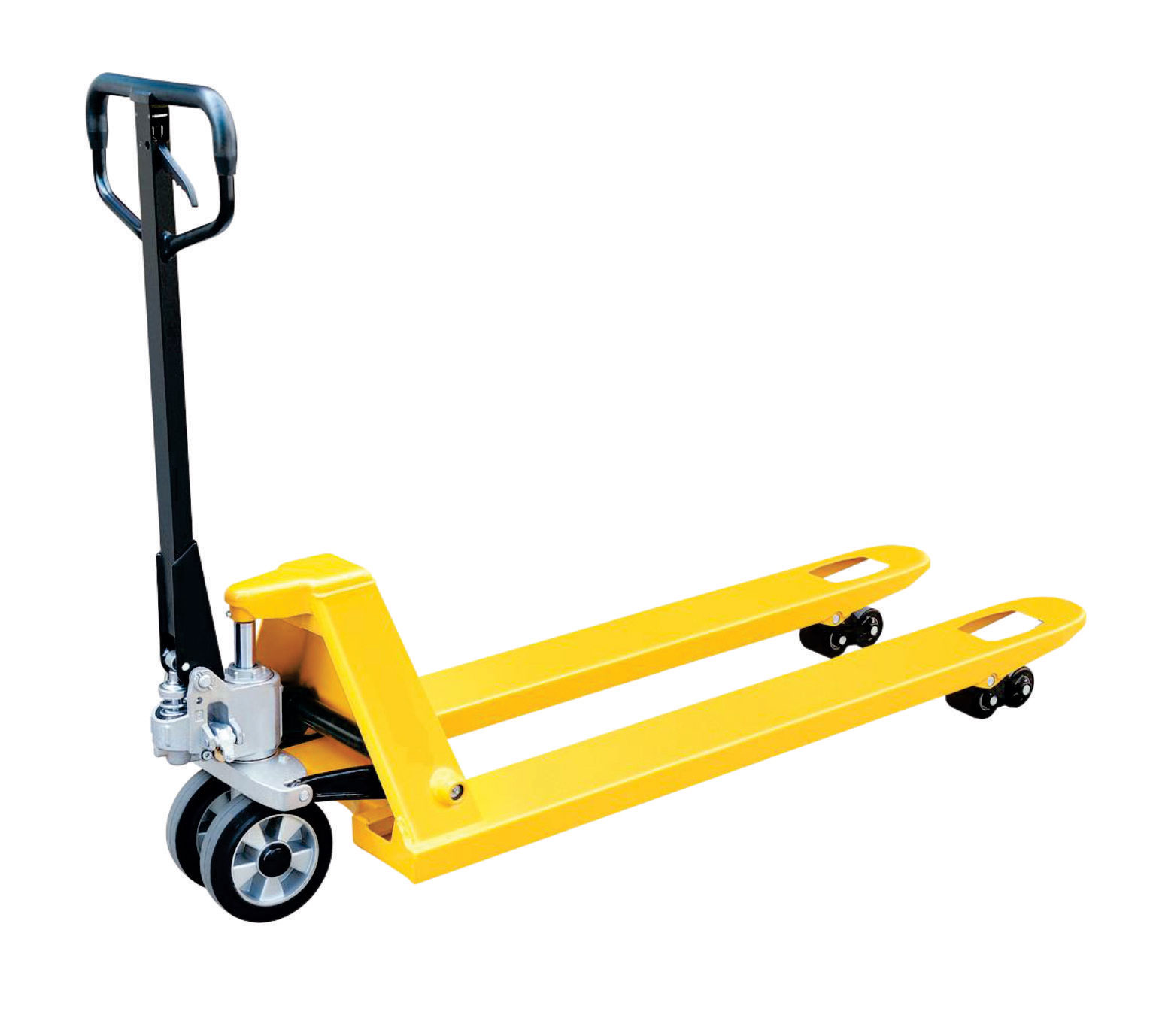 ×
Any business unit small or large Avcon hydraulic hand pallet truck is perfect the solution for your floor movement of pallets over medium /short distance.
Product Features
• Robust frame structure and reinforced fork design for additional strength and durability.
• Compact pump design to engage less space in front chassis.
• Ergonomically designed rubber grip handle for easy handling.
• Nylon Tail wheels at fork ends for easy pallet entry.
• Multiple Wheel Options
• Nylon wheels – Standard application
• PU Wheels – Epoxy Flooring / Clean room area
• CI Wheels – Rough Surface / Heavy Engineering work Area
• Tandem tail wheel fork type to compensate Gradeabilty and load stabilisation at slopes.

Specifications
Model
AVHPT550M
AVHPT685M
Capacity
Kg
2500
2500
Pump Type
Integrated Lifting and
pumping mechanism
Integrated Lifting and
pumping mechanism
Wheel
Nylon
Nylon
Usable Fork Length
mm
1150 mm
1220 mm
Fork Width
mm
160 mm
160 mm
Width Over Forks
mm
550 mm
685 mm
Minimum Height
mm
85 mm
85 mm
Lifting Height
mm
115 mm
115 mm
Raised Height
mm
200 mm
200 mm
Steering Wheels
mm
200 x 50
200 x 50
Load Wheels
mm
80 x 70
80 x 70
Surface Finish
Powder Coated
Powder Coated
Colour
Golden Yellow
Golden Yellow
2
Need a Customised Solution ? Please Get in Touch
Type of Industries
• Small Enterprises.
• Warehousing
• E Commerce & Retail
• Heavy Engineering Industry – Medium Duty Application .
• Pharmaceutical Industry – RM/ FG / Non GMP Zone
• Food Processing Industry
• Logistics Industry
• Marine / Shipbuilding Industry
• Chemical Industry – Non Corrosive Atmosphere
• Hotels / Event management