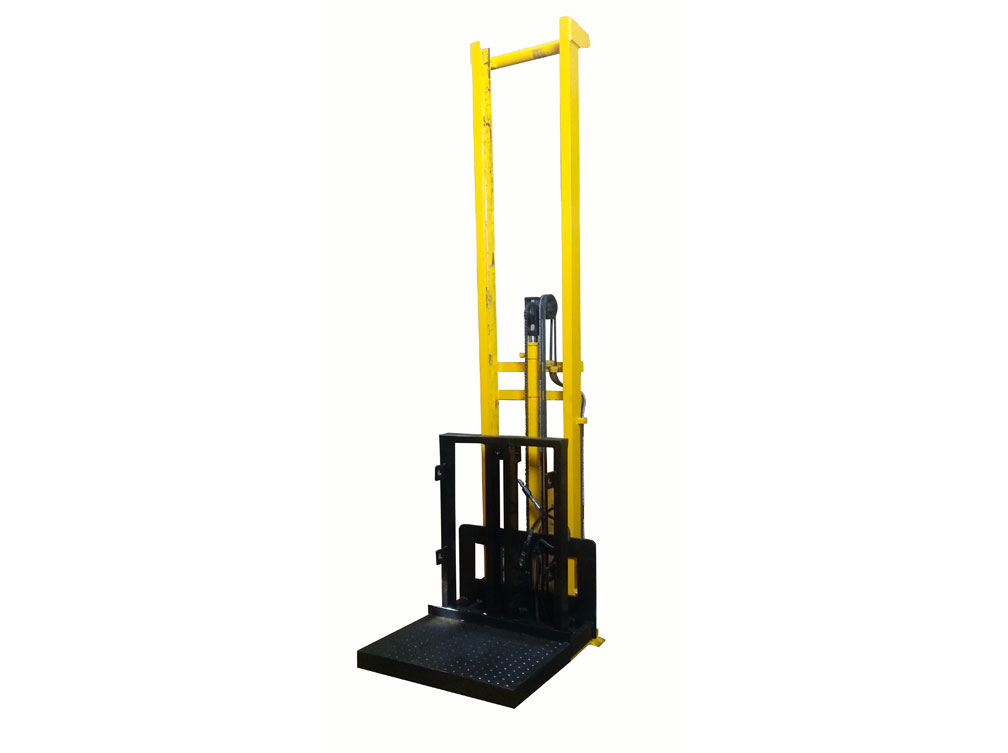 ×
Avcon single mast hydraulic lift becomes the most cost effective solution for vertical goods transfer from floor to floor. It is also termed as wall mounted stacker since working principle of hydraulic lift is similar to a stacker at fixed position.
Salient Features
• Customised platform size according to application study and space availability.
• Installation without pit can be possible for lift heights up to 4000mm.
• Loads up to 2000 kg can be handled.
• Lift Heights up to 12 meters models are available.
• Multiple point control pendants at landing positions for ease of operation.
• Flameproof models available for flameproof work area.
• SS 304 MOC variants for pharmaceutical applications.
• Wire rope supports for extra stability for platform.
• Fail safe hose burst technology to avoid free fall in abnormal hose conditions
• Pressure relief valve system to avoid overloading of equipment.
• Emergency lowering feature in power failure condition.

Standard Specifications
| Model | | AVEHGL-TM |
| --- | --- | --- |
| Capacity | Kg | Up to 2000 |
| Power Source | | AC |
| Lifting / Lowering | | Motorised |
| Platform Size | | Customized As per application |
| Railings | | As per Load entry/ Exit |
| Usable Sides | No | 3 |
| Power Pack | | At 3 M radius can be placed as per suitability |
Type of Applications
• Textile Industry
• SME units in smaller premises
• Paints and Chemical Industry
• Manufacturing Industry
• Pharmaceutical Industry