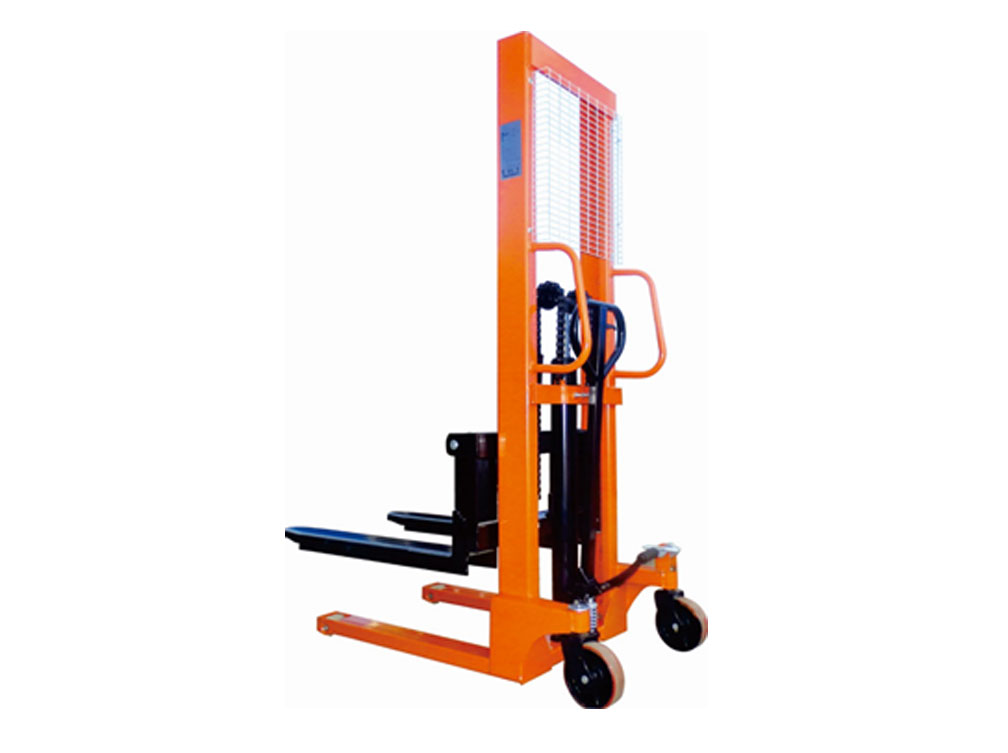 ×
Running low on space for storage of pallets? Our range of AVCON hand stackers will serve right solution for less height storage of pallets.
Product Features
• Compact design of stacker becomes easy for movement in less space
• Dual Pumping operation by handle and foot pedal.
• Adjustable fork width for multiple pallet options
• Release lever in handle for lowering.

Specifications
| Model  | |  AVMHS1516 | AVMHS2016 | AVMHS1030 |
| --- | --- | --- | --- | --- |
| Capacity | Kg | 1500 kg | 000 kg | 1000 kg |
| Usable fork length | mm | 1000 mm | 1000 mm | 1000 mm |
| Overall Length | mm | 1450 mm | 1450 mm | 1450 mm |
| Width Over forks | mm | 350  – 750 | 350  – 750 | 350  – 750 |
| Minimum Height | mm | 90 mm | 90 mm | 90 mm |
| Lifting Height | mm | 1600 | 1600 | 3000 |
| Closed Height | mm | 2050 | 2050 | 2150 |
| Steering Wheels | mm | 180 x 50 | 180 x 50 | 180 x 50 |
| Load Wheels | mm | 80 x 7 | 80 x 70 | 80 x 70 |
| Surface Finish | | Powder Coated | Powder Coated | Powder Coated |
| Colour | | Yellow | Yellow | Yellow |
Type of Industries
• Small Enterprises / Warehouse.
• Truck Loading / Unloading application
• E Commerce & Retail .
• Heavy Engineering Industry – Medium Duty Application
• Food Processing Industry
• Logistics Industry